Year-end Events 【2023/12/31】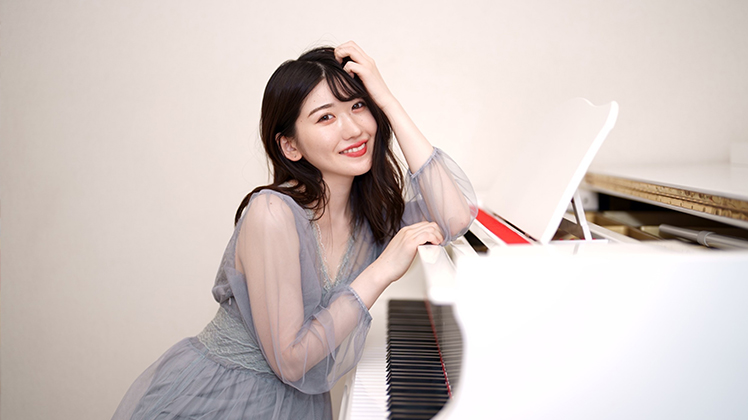 Pianist "Nanohana" Live music
Don't miss a special live piano performance by acclaimed pianist "Nanohana," (Winner of the 2023 TEPPEN piano championship) on Fuji TV. Join us in celebrating the New Year with music.
【Time】9:00 PM ~ 10:00 PM
【Location】Atrium Tower Lobby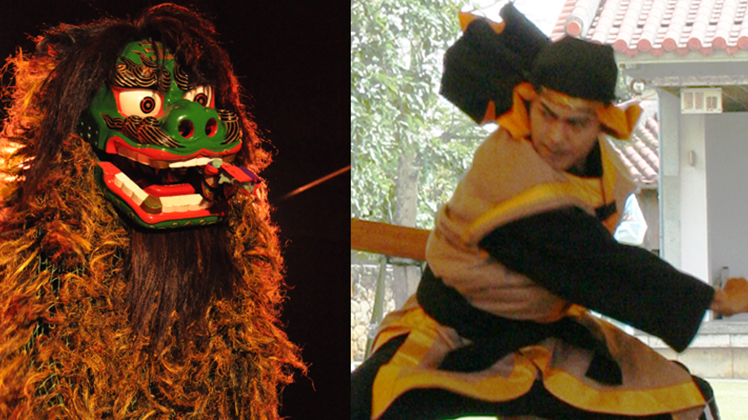 Okinawan Traditional Performing Arts New Year's Eve Special Live
Experience captivating Ryukyuan dance, music, island songs, live sanshin performances, and cultural displays. Immerse yourself in local Okinawan essence.
【Times・Locations】
・Sanshin Live 11:00 PM ~ 11:30 PM(Atrium Lobby)
・Bojutsu "Martial Art of Stick Fighting "and Ryukyuan Dance Performance
11:30 PM ~ 11:45 PM (Atrium Lobby)
・Michi-junei by Shishimai Dance "Lion Dance Procession"
11:45 PM ~ 11:50 PM (From Atrium Lobby to the Chapel Front Walkway)
・Japanese Drum Performance 11:50 PM ~ 0:00 AM(Chapel Front Walkway)
・Shishimai Dance and Performance 0:05 AM ~ 0:15AM (Chapel Front Walkway)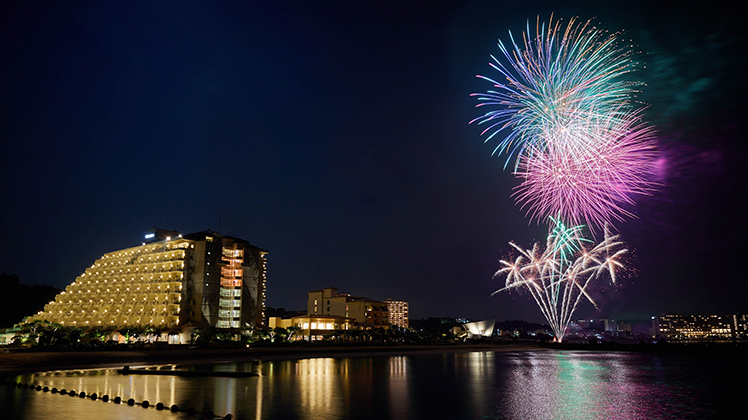 New Year Fireworks
A spectacular fireworks display will be held as we welcome the New Year. Why not celebrate the beginning of a new year with this special show? Vividly colored fireworks will illuminate the night sky of Okinawa.
【Date and Time】1/1 0:00AM ~
【Location】The Grill Outdoor Garden & Terrace
*The event is subject to cancellation or change without notice due to weather or other reasons.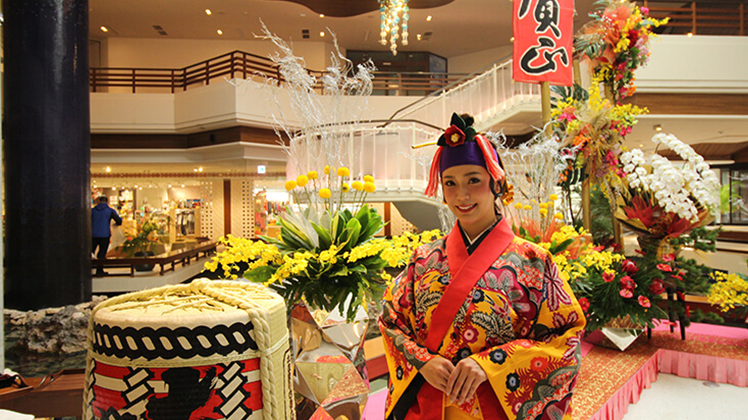 Commemorative photo in Ryukyuan costume
How about taking a commemorative photo in traditional Ryukyuan costumes? Let's turn your memories with family and friends into a special way to begin the new year.
【Date and Time】
12/31 3:00 PM ~ 6:00 PM
1/1 10:30 AM ~ 3:00 PM
【Location】Ashibina Fun Place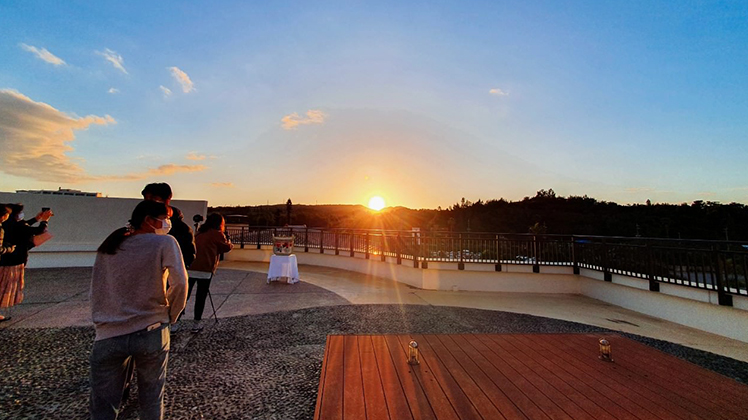 New Year's Sunrise and Kagamibiraki Ceremony
Welcome the new year with family and friends while watching the first sunrise from Onna-dake (Mt. Onna). Participate in the Kagamibiraki Ceremony for a healthy and prosperous new year, and savor the special moment amidst Okinawa's beautiful scenery.
【Date and Time】1/1 7:30AM ~
【Location】Wellness & Spa Building 3F Terrace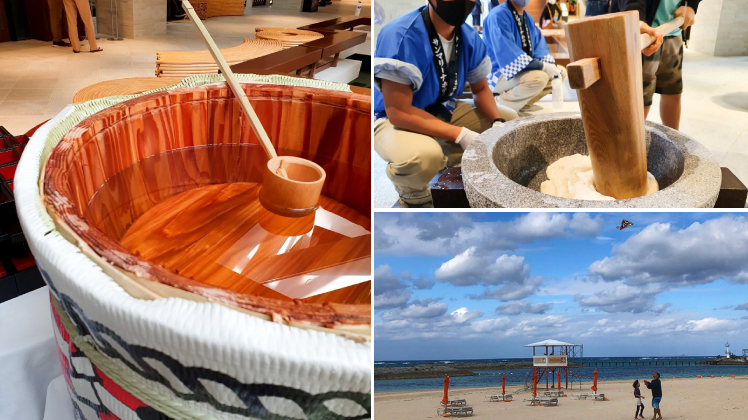 Behavior sake
To celebrate the start of the New Year with you, we will be offering a Furumai Sake "Behavior sake" as a token of our appreciation. Please feel free to stop by.
【Date and Time】1/1 8:00AM ~ 11:00 AM
【Location】Main Tower Lobby
New Year's Celebration Mochi Pounding
New Year's Celebration "Mochi Pounding" welcomes both adults and children.
Let's celebrate the New Year by eating freshly pounded rice cakes.
【Date and Time】1/1 9:00AM ~ 11:00 AM
【Location】Main Tower Lobby
New Year's play (Flying a kite, Spinning tops, Hago-ita (Japanese badminton), etc.)
You can enjoy it with your friends. Let's bond with each other at the beginning of a new year through traditional New Year's games.
【Date and Time】 1/1 ~ 1/3 9:00AM ~ 5:00 PM
【Location】Sunmarina beach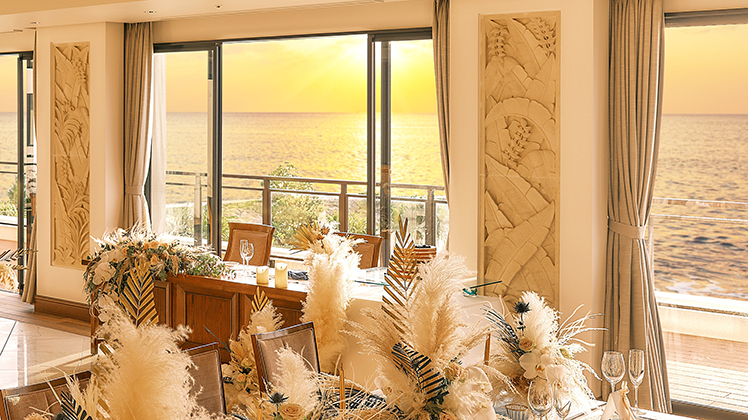 Sunset Gala Dinner
We will hold "Sunset Gala Dinner" for two days only.
Celebrate the coming of the New Year in a sophisticated atmosphere with "Ryukyu French" cuisine, a perfect fusion of Okinawan ingredients and French cuisine. Enjoy the beginning of the new year in elegance as you watch the sunset at our oceanfront dining venue.
【Date】12/31 ~ 1/1
【Time】5:30 PM、7:00 PM start only
【Location】Aoi & Yuna (Function Room)
【Price】15,000 JPY (price include tax and service charge)
*Reservations must be made by 6:00 PM the day before.
*Events are subject to change or cancellation due to unforeseen circumstances.
*The photo is a sample image.
Inquiries
TEL:+81 98-965-2222
9:00 AM-6:00 PM